Rooster Hill Fall '21 Wine Club ~ Subtle, Complex & Sharp Harvest Time Wines~
A unique and elegant dry red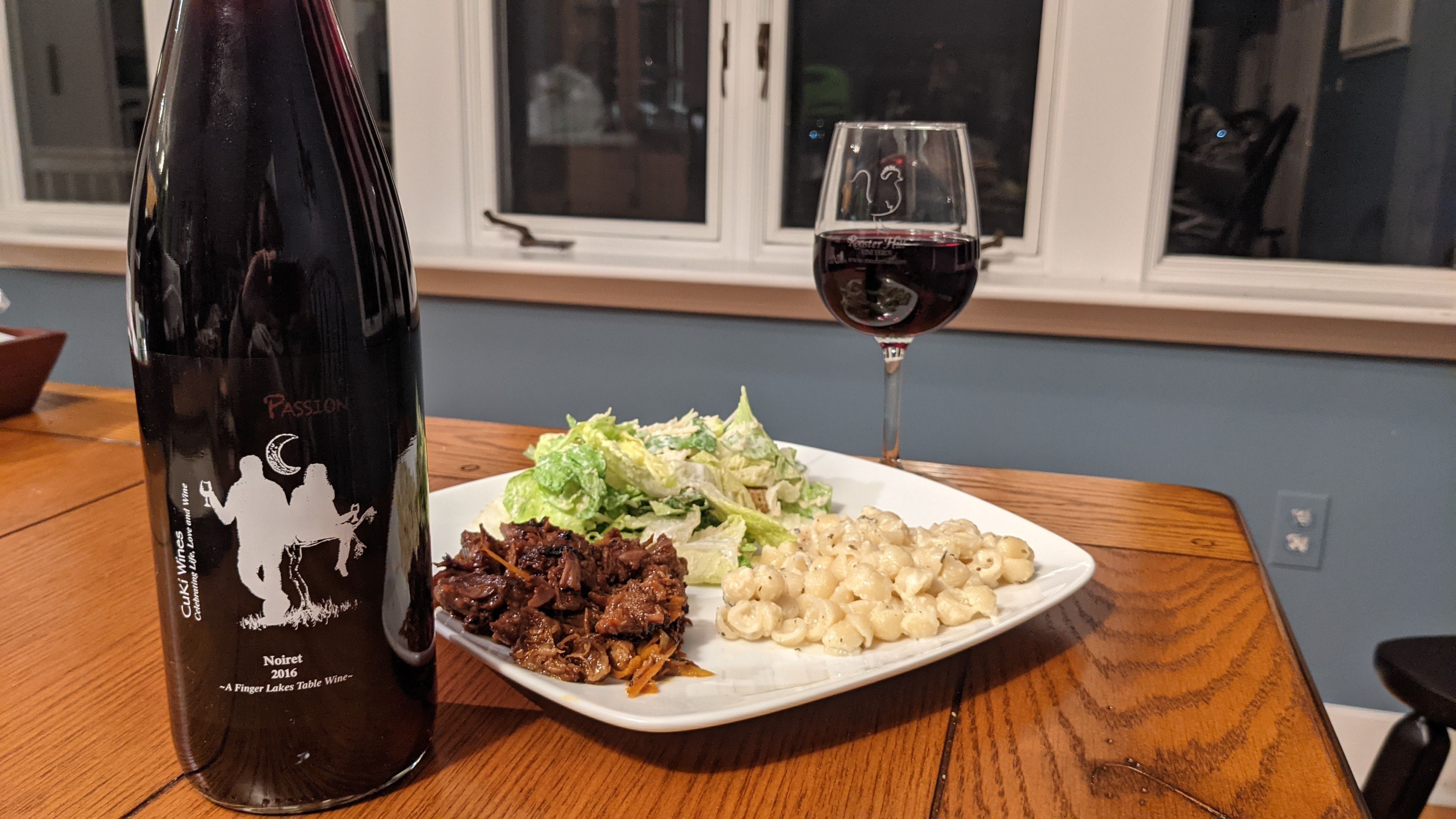 Our Newest CuKi Wine Release - Soft Astringency Subtle Flavors

paired with Lamb w/ Sherry Honey & Peppers
A wonderfully full dry red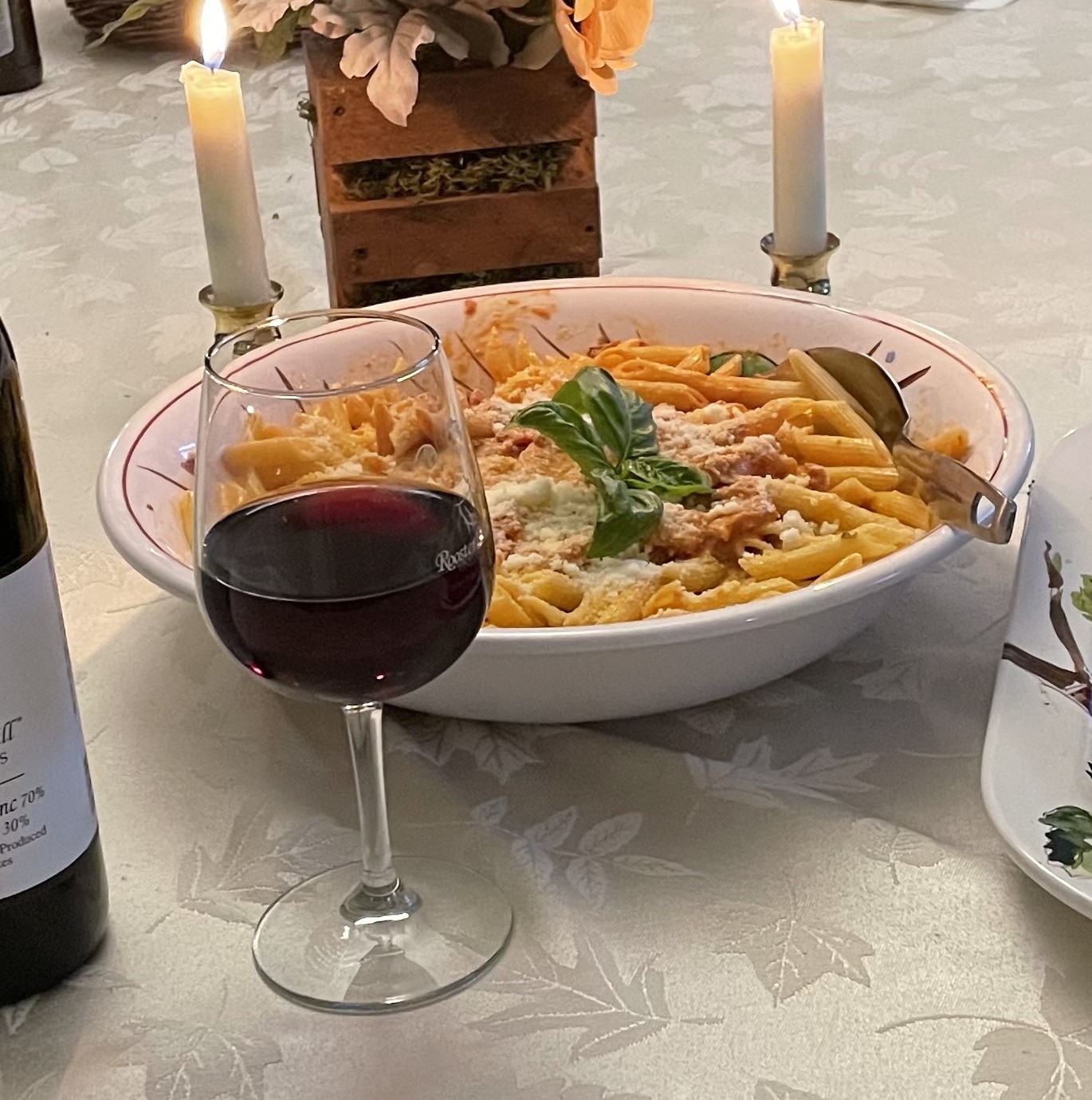 A time-honored Red Blend Well rounded with a Soft bite paired with Penne w/ Vodka Sauce & Proscuitto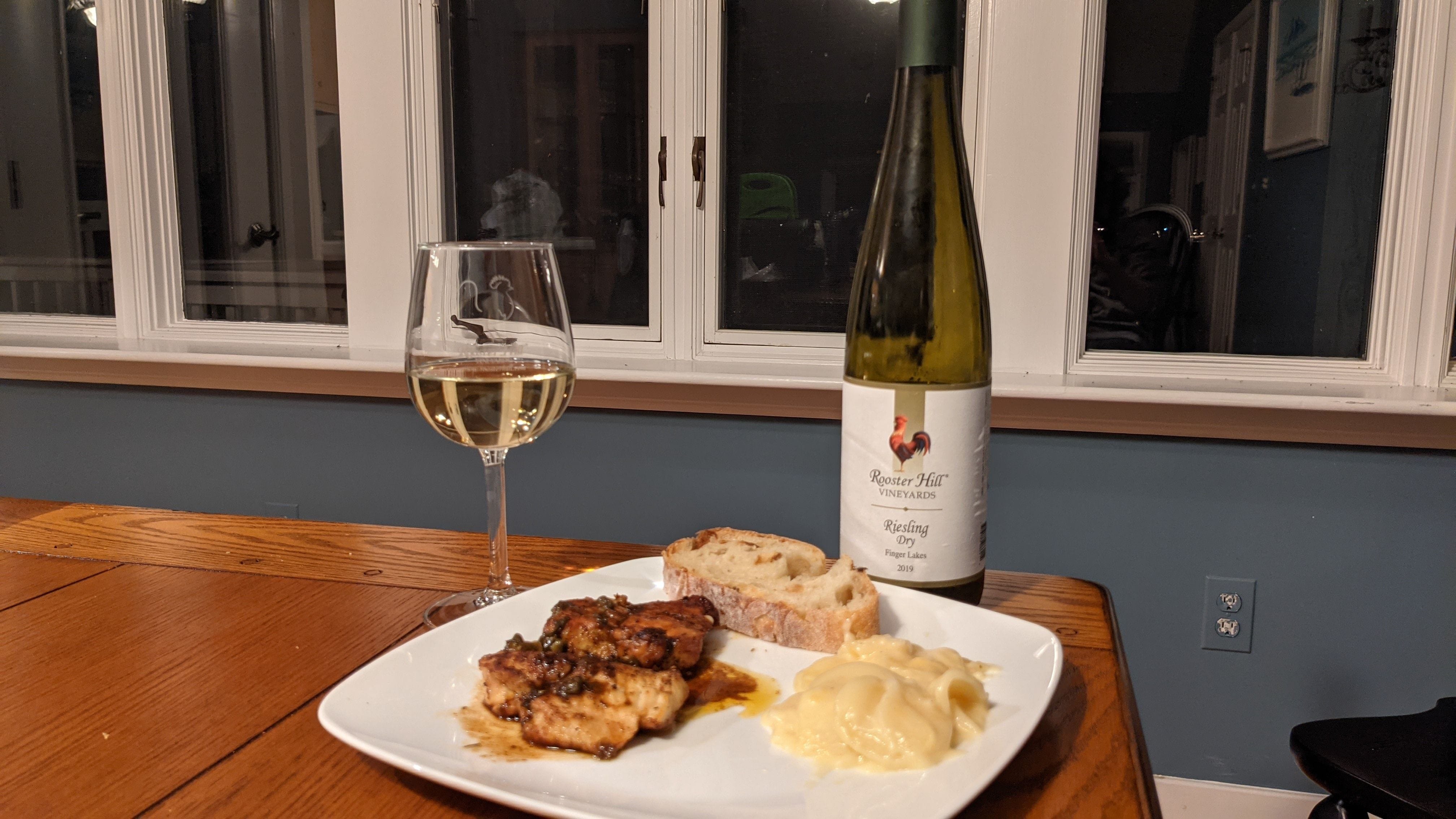 Like biting into a Granny Smith Apple! paired with Spicy Lemon Chicken
Lamb with sherry honey & Peppers

(With Our 2016 CuKi Passion - Noiret)

Ingredients

~ 2.5lbs Lamb Shoulder, trimmed of fat and cubed ~ 1.5tbsp Olive Oil ~ 1 Large Yellow Onion, chopped ~ 3 Bell Peppers (color of your choice) sliced julienne style ~ 2tsp Minced Garlic ~ 1/2tsp Paprika ~ 1tsp Cumin ~ 8.5oz medium sherry (or sweet wine of choice) ~ 8.5oz of Stock (lamb, beef, or chicken) ~ Pinch of saffron (optional) ~ 1tbsp Sherry Vinegar (or comprable vinegar) ~ 2tbsp Honey ~

Directions

Step 1

- Heat 1tbsp olive oil in large skillet. While heating, pat dry lamb with towel. Brown lamb over high heat in batches - leave space between cubes of lamb. Place all lamb on a plate to be used later. Add remaining oil, onions, and peppers to skillet. Cook until onion is golden and peppers are soft.

Step 2

- After onions are golden and peppers are soft, add garlic, cumin & paprika and cook for 1 additional minute. Add sherry and lower heat to simmer. Add lamb back to skillet along with stock, vinegar, honey, and saffron. Bring to just under a boil, turn heat down and cover, and then cook gently for 2 hours, turning meat occasionally to prevent burning.

Step 3

- In the last half hour remove lid to reduce sauce to desired consitency. Serve with rice or couscous (or starch of choice - we chose Pasta Alfredo!)

Penne with Vodka Sauce & Proscuitto

Ingredients

~ 1lbs Penne cooked Al Dente per package instructions ~ 2tbsp Extra Virgin Olive Oil ~ 5 slices Proscuitto ~ 3 Garlic Cloves (minced) ~ 1/2cup Fresh Basil (chopped) ~ 1/4 cup Vodka ~ 28oz can Diced San Marzano Tomatoes ~ 1/2tsp Red Pepper Flakes ~ 1cup Heavy Cream ~ 2-3tbsp Cold Butter (not frozen) ~ Parmesan Cheese ~

Directions

Step 1

- Saute Proscuitto, Garlic, Basil in Olive Oil in Large Skillet over medium heat until Proscuitto is browned (~5 minutes).

Step 2

- Remove pan from stove and add Vodka

(DO NOT ADD VODKA OVER OR NEAR OPEN FLAME)

. Return to stove, add tomatoes, red pepper flakes. Stir to combine.

Step 3

- Allow sauce to reduce over medium heat for 30-45 minutes, stirring occasionally to prevent burning on the bottom. Sauce should become very thick.

Step 4 -

Add heavy cream to rehydrate sauce. Stir to incorperate, then reduce heat to a simmer. While sauce is simmering, cook pasta per pasta package instructions.

Step 5 -

Add pasta sauce and penne together in large serving bowl. Add butter and mix until butter is melted, top with parmesan cheese and enjoy!

(With Our 2019 Dry Riesling)

Ingredients

~ 1.5lbs Chicken Tenders (raw, unbreaded) ~ 4tsp Cajun Seasoning ~ 2tsp Sea Salt ~ 2tsp Garlic Powder ~ 2tsp Chili Powder ~ 1tsp Brown Sugar ~ 1tsp Ginger ~ 1/2tsp Tumeric ~ 1/2tsp Cinnamon ~ 1/2tsp Cayenne Pepper ~ 1/2tsp Black Pepper ~ 6tbsp Butter ~ 5tbsp Extra Virgin Olive Oil ~ 1/2cup Lemon Juice ~ 1/2cup Chicken Stock ~ 1/2cup Brined Capers (rinsed)

Directions

Step 1

- Mix all dry seasonings together in a bowl. Dredge Chicken tenders in season mix and shake off extra.

Step 2

- In large skillet over medium heat, heat 2tbsp Butter and 3tbsp Olive Oil. When sizzling, add half of the Chicken Tenders. Cook 3-5 minutes (until brown) flip and cook additional 3-5 minutes (until brown). When done, remove chicken from pan and set aside on plate. Add remaining oil and butter and cook remaining chicken as above.

Step 3

- After Chicken is done and removed from pan, add Lemon Juice, Chicken Stock, and Capers to pan, bring to boil.

Step 4

- Return Chicken to pan and simmer for 5 minutes. Place Chicken on platter and pour sauce on top. Serve with Rice (or starch of choice - we chose scalloped potatoes!)
Rooster Hill Summer Wine Club ~ A Spicy, Bold & Crisp Summer '21 ~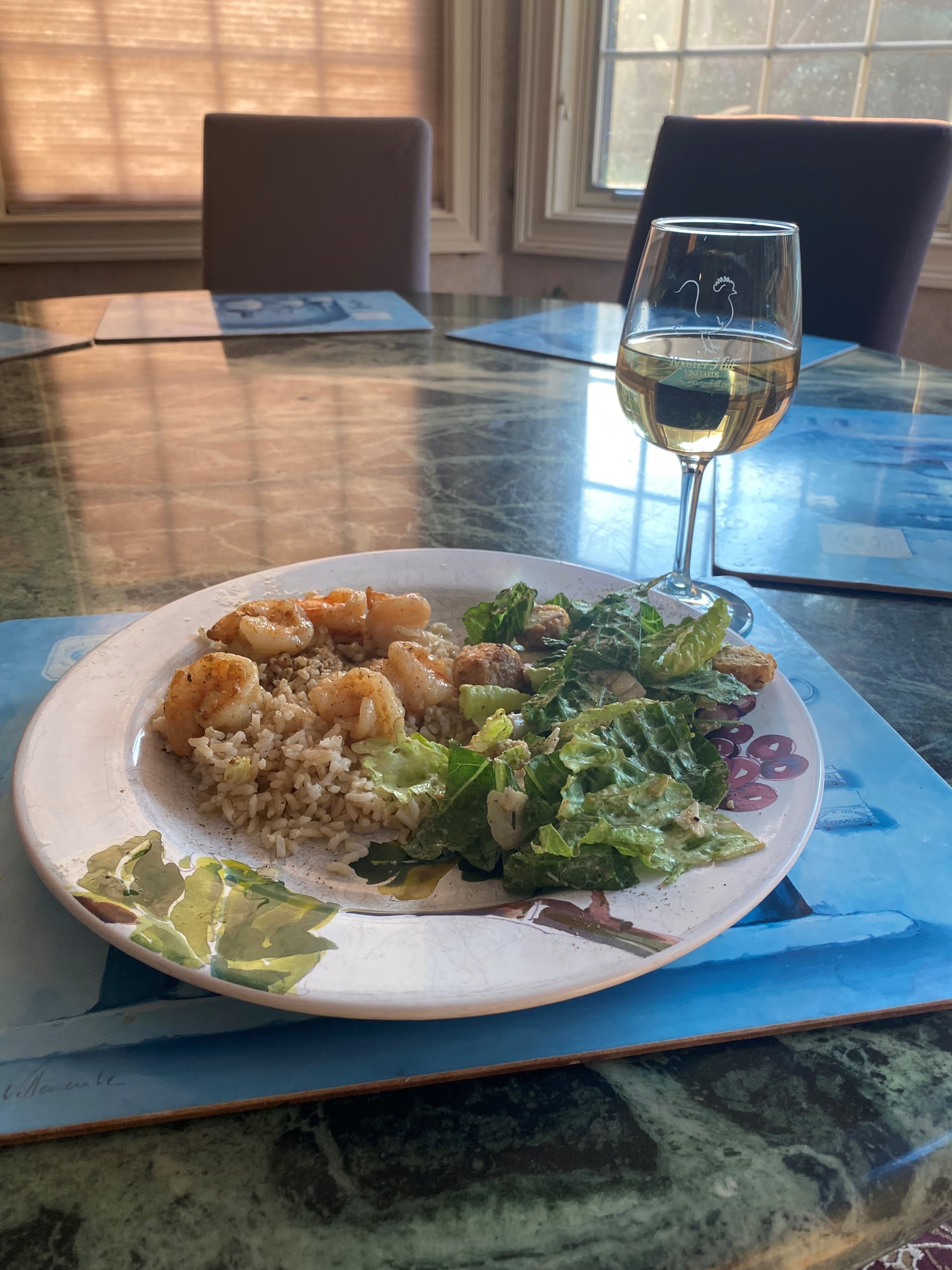 Our Newest CuKi Wine Release -

Gently Aged Vidal Blanc paired with Spicy Shrimp Creole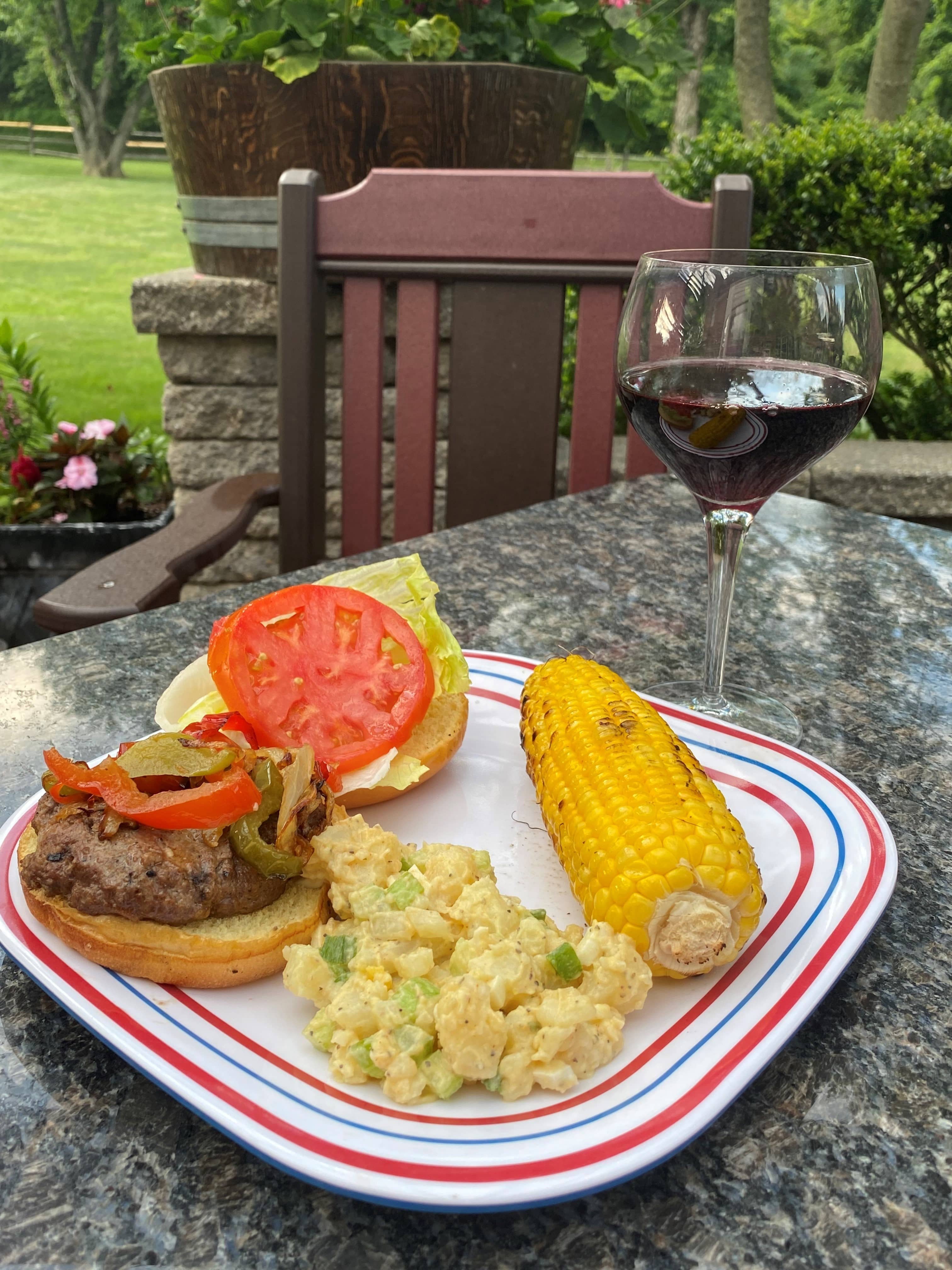 Just released, oaked and aged for ~ 2 years paired with BBQ Blue Cheeseburger
Riesling based, crisp and mild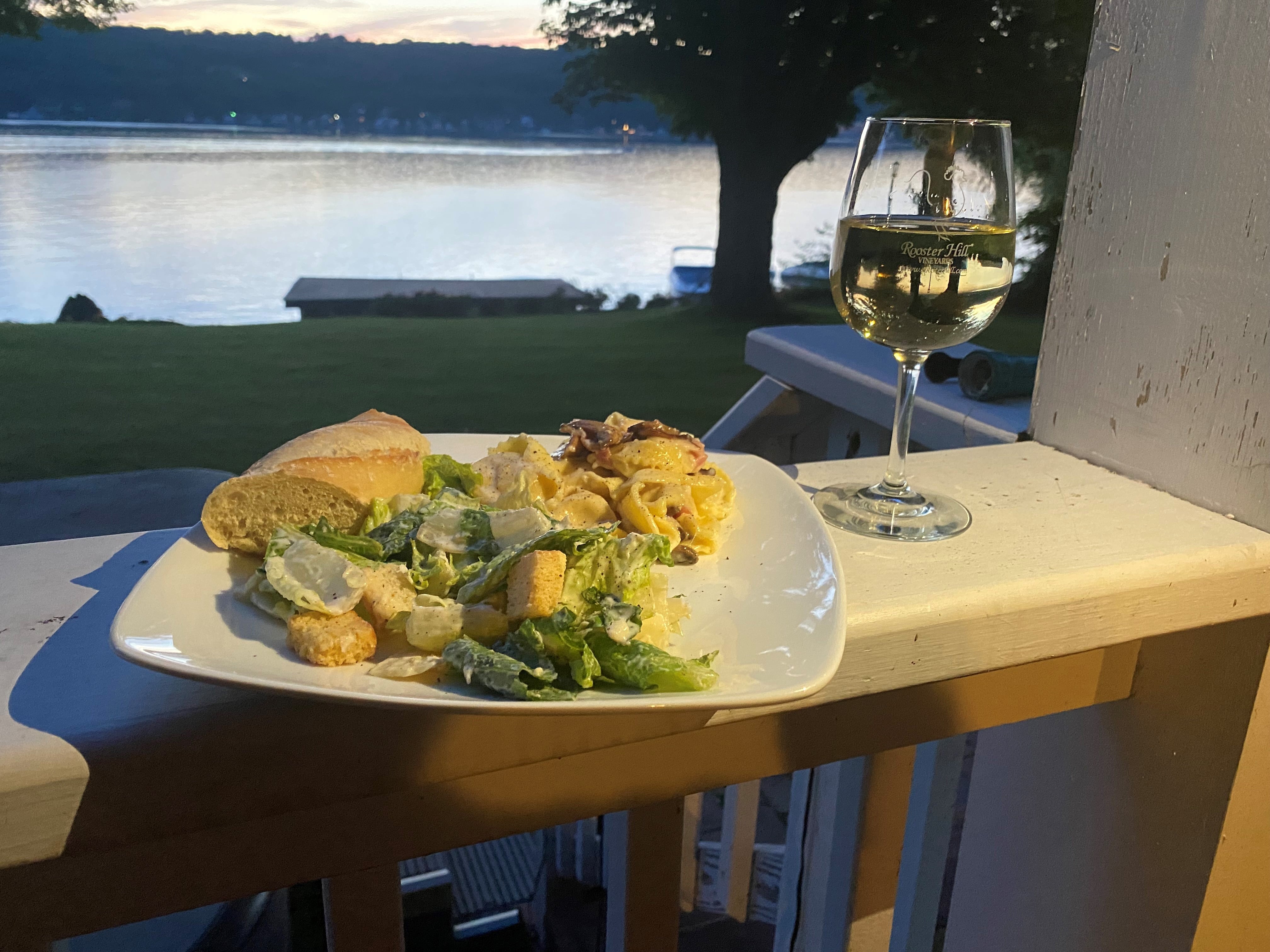 A refreshing
"by the water" Wine

paired with Pasta Alfredo
(With Our 2016 CuKi Purity - Vidal Blanc)

Ingredients

~ 1 Cup Rice (makes 4 servings) ~ 6 Tbsp butter ~ 1 Tbsp Worcestshire Sauce ~ 1/2 squeezed lemon ~ 1/2 Tsp fine herbs ~ 1 bay leaf ~ 1/2 Tsp dried thyme ~ 3 Tbsp Olive Oil ~ 2 lbs large shrimp, peeled and deveined ~ 2 Tbsp chopped fresh parsley ~ Hot petter sauce (to taste)

Directions

Step 1

- Cook rice in rice cooker until done. Drain.

Step 2

- While rice is cooking, melt butter in a small saucepan over very low heat. Add Worcestshire and Hot pepper sauce. Mix well. Stir in lemon juice, herb mix, bay leaf, and thyme. Keep warm, but do not simmer.

Step 3

- Heat oil in large skillet. Saute shrimp in oil for 3-4 minutes, or until pink. Pour off all but 1 Tbsp of liquid from skillet. Remove and discard bay leaf. Add butter sauce annd still well. Add in parsley, stir. Serve over rice.

(With Our 2018 Cabernet Sauvignon)

Ingredients

~ 3 lbs lean ground beef ~ 6 Oz crumbled blue cheese ~ 1 Packet Onion Soup Mix ~ 1/4 Tsp hot pepper sauce ~ 1 Tsp Worcestershire Sauce ~ 1 Tsp coarse ground pepper ~ 1-1/2 Tsp salt ~ 1/2 Cup Dijon mustard ~ 1/2 Cup BBQ Sauce of choice (or Ketchup) ~ 12 French Rolls (or Hamburger buns)

Directions

Step 1

- In a large bowl, hand mix ground beef, blue cheese, onion soup mix, hot pepper sauce, Worcestershire sauce, black pepper, salt, mustard, and BBQ sauce.

Step 2

- Preheat grill for high heat. Gently form the burger mixture into ~12 patties.

Step 3

- Oil grill grate. Grill patties 5 minutes per side, or until well done. Serve with desired toppings on rolls.

Ingredients

~ 1-1/2 Cup heavy cream ~ 1/4 Cup butter ~ 1/2 Cup fresh grated parmesan ~ Salt ~ Pepper ~ Cumin (or spice of choice) to taste ~ 1/4 lb thin sliced Prosciutto (or protein of choice) ~ Pasta of choice ~

Directions

Step 1

- In a large part, bring water to a boil. Add pasta and cook to desired tenderness.

Step 2

- In a small sauce pan, bring heavy cream, butter, and cumin to a boil. Once boiling, reduce heat to simmer and allow sauce to thinken for a few minutes. Add salt and pepper.

Step 3

- While sauce is thinkening, cut the slice prosciutto into thin strips, then cut those strips in half.

Step 3

- In a large bowl, add the sauce, pasta, parmesan, and prosciutto and toss.